En español abajo | Nan kreyòl anba a
This week has been inspiring. Hundreds of Floridians from across the state joined us in a massive mobilization to support our immigrant families. We shared powerful stories with lawmakers, held a vigil, marched through Tallahassee, created activist art, and made sure our voices were heard. We're so humbled by the extraordinary courage our immigrant community has shown, in particular the courage of our immigrant youth.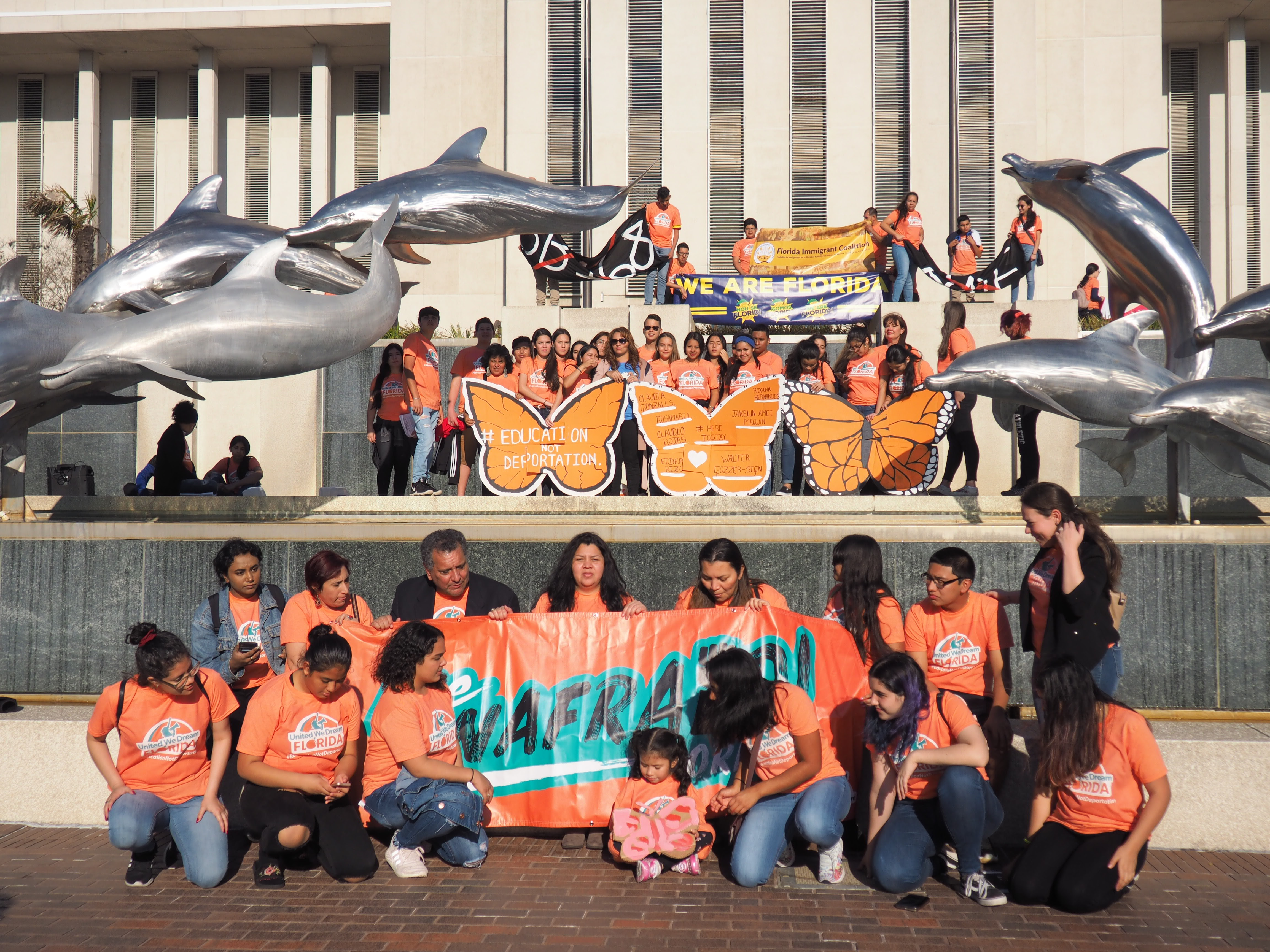 We heard heartbreaking stories of children being separated from their parents, including one amazing 5-year-old activist whose father was deported just last week, and stories of bravely facing and surviving violence, fear, and the unknown. Our struggle brings us together, and together we are strong.
Thank you so much to the organizations that helped support this week's mobilization for immigrant rights, including United We Dream, FWAF, HOPE, MFV, Trust Orlando, Florida Latina Advocacy Network, Orange County Classroom Teachers Association, We Count!, Community Tampa Bay, RCMA, QLatinx, We Are All America, Unite Here, Florida Immigrant Youth Network, Young American Dreamers, and more. This work couldn't happen without our members, partners, and allies. See more images from this amazing mobilization here.
SB 168 and HB 527 get even uglier
In Florida, one out of five residents is an immigrant, and nearly 1 million of us live with at least one undocumented family member. Florida is one of the most diverse states in the country. But our state now stands on the verge of leading the pack of anti-immigrant states with Senate Bill 168 and House Bill 527. These bills are being fast tracked due to a secret backroom deal bartered between legislators and businesses leaders who opposed E-verify. HB 527 even had one of its committee stops cancelled so it could get to the House floor even faster. Both of these bills should be defeated, and the safety of all Florida families needs to come first.
That's why Miami Police Chief Jorge Colina threatened to quit if SB 168 passed and said he wouldn't be able to sleep at night if he had to "check where someone came from before helping them." This goes against everything Floridians stand for and would only lead to more of our families torn apart for the benefit of detention companies that profit from our suffering.
Help us take stand against SB 168 and HB 527. Send an email right now and call Florida legislators at 210-714-2768.
The State of Latinas
From anti-immigrant legislation that forces law enforcement to comply with ICE to bans on comprehensive reproductive care before folks even know they're pregnant, women in Florida continue to be under attack during Florida's legislative session. Join Latinas from across the state in Tallahassee on April 3-4 to uplift our communities and highlight how anti-immigrant and anti-women bills disproportionately impact women of color. The State of Latinas will honor the lives and resilience of women of color, Latinas, and all immigrants while unapologetically uplifting our demands and experiences. Secure your spot before it's too late. Registration closes March 31.
Supporting Muslims and Refugees
On April 3-4, we'll also be joining Muslim Day at the Capitol. Join people of Muslim faith and supporters from across the state to fight back against Islamophobia, discuss the legislation impacting our Muslim community, and speak with lawmakers about the issues. Register today to participate.
We're also lifting up the stories of many amazing Muslim women captured in a new e-book, Learning from Within: Stories of Women in the New World. Written in both English and Arabic, it includes the stories of brave female refugees and immigrants whose survival and leadership can be an inspiration to many other women all over the world. Get your copy for just a $5 donation to Florida Immigrant Coalition.
Making Life Better
There are some bill under consideration this session that would make life better for all Floridians, such as HB 457 and SB 1234. The Florida Latinx Hispanic American Union (FLHASU), held a press conference at the Florida Capitol calling on Florida legislators to support this legislation, which would extend state financial aid awards to students who with DACA and TPS. Here are some of the other bills that could make life better for all Floridians.
HB 457/SB 1234: Student Eligibility Requirements for State Financial Aid Awards and Tuition Assistance Grants – Expands scholarship and financial aid eligibility to DACA and TPS recipients (Sponsors: Representative Carlos Guillermo Smith, Representative Fentrice Driskell, Senator Annette Taddeo)
HB 1303/SB 1566: Florida Trust Act – Would rebuild trust and local autonomy in our communities by cutting ties between local law enforcement and federal Immigration Customs Enforcement (Sponsors: Representative Al Jacquet, Senator Victor M. Torres, Jr.)
HB 1137: Nonenforcement of Immigration Detainers and Nonjudicial Immigration Warrants – Limits potential cooperation with local police and federal immigration enforcement (Sponsor: Representative Cindy Polo)
SB 1538: Heat Illness Prevention – Protects farmworkers, construction workers, and others from extreme heat conditions (Sponsors: Representative Carlos Guillermo Smith, Senator Victor Torres)
HB 49/SB332: Dignity for Incarcerated Women – Provides incarcerated and detained women with access to health products and adds safety requirements when interacting with male guards (Sponsors: Representative Shevrin Jones, Representative Amy Mercado, Senator Jason Pizzo)
En Español
Esta semana ha sido inspiradora. Cientos de Floridanos de todo el estado se unieron a nuestra movilización masiva para apoyar a nuestras familias inmigrantes. Compartimos historias poderosas con legisladores, hicimos una vigilia, marchamos en Tallahassee, creamos arte de activistas y nos aseguramos de que nuestras voces fueran escuchadas. Estamos tan agradecidos por el extraordinario coraje que ha demostrado nuestra comunidad inmigrante, en particular el coraje de nuestros jóvenes inmigrantes.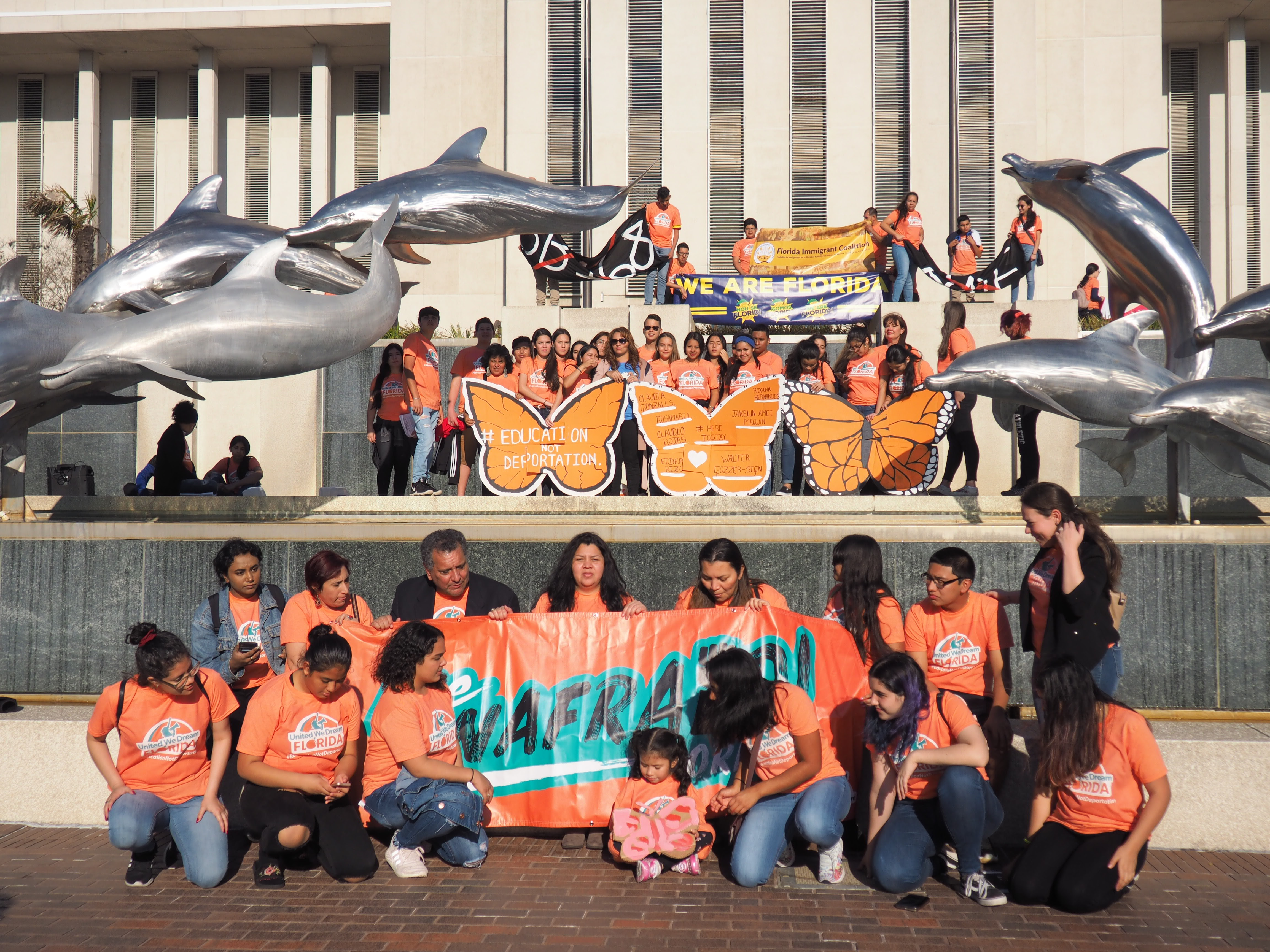 Escuchamos historias desgarradoras de niños separados de sus padres, incluyendo un activista increíble de 5 años, cuyo padre fue deportado la semana pasada. También historias de cómo enfrentarse con valentía y sobrevivir a la violencia, el miedo y lo desconocido. Nuestra lucha nos une, y juntos somos fuertes.
Muchas gracias a las organizaciones que ayudaron a apoyar la movilización de esta semana por los derechos de los inmigrantes, incluyendo United We Dream, FWAF, HOPE, MFV, Trust Orlando, Florida Latina Advocacy Network, Orange County Classroom Teachers Association, We Count!, Comunidad Tampa Bay, RCMA, QLatinx, We are All America, Unite Here, Florida Youth Network, Young American Dreamers y más. Este trabajo no podría ocurrir sin nuestros miembros, socios y aliados. Ver más imágenes de esta movilización increíble aquí.
SB 168 y HB 527 se ponen aún más feos
En Florida, uno de cada cinco residentes es un inmigrante, y casi un millón de nosotros vivimos con al menos un miembro de la familia indocumentada. Florida es uno de los estados más diversos del país. Pero nuestro estado ahora está a punto de liderar el grupo de estados anti-inmigrantes con el Proyecto de Ley Senatorial (SB 168 y el Proyecto de Ley 527.Estos proyectos están siendo acelerados debido a un acuerdo secreto entre los legisladores y los líderes empresariales que se oponen a E-Verify. HB 527 incluso tuvo uno de sus comités suspendido cancelado para poder llegar al piso de la Cámara aún más rápido. Ambos de estos proyectos de ley deben ser derrotados, y la seguridad de todas las familias de la Florida debe ser lo primero.
Es por eso que el jefe de la policía de Miami, Jorge Colina, amenazó con renunciar si la SB 168 se aprobaba y dijo que no podría dormir por la noche si tuviera que"verificar de dónde venía alguien antes de ayudarlos". Esto va en contra de todo lo que los floridanos defienden y defenderán. solo llevan a más familias destrozadas en beneficio de compañías de detención que se benefician de nuestro sufrimiento.
Ayúdenos a enfrentarnos a SB 168 y HB 527. Envíe un correo electrónico ahora mismo y llame a los legisladores de Florida al 210-714-2768.
El estado de las latinas
Desde la legislación antiinmigrante que obliga a las autoridades a cumplir con ICE a prohibir la atención reproductiva integral antes de que las personas sepan que están embarazadas, las mujeres en Florida continúan siendo atacadas durante la sesión legislativa de Florida. Únase a las latinas de todo el estado en Tallahassee el 3 y 4 de abril para elevar a nuestras comunidades y resaltar cómo los proyectos de ley contra los inmigrantes y contra las mujeres impactan de manera desproporcionada en las mujeres de color. El Estado de las Latinas honrará las vidas y la capacidad de recuperación de las mujeres de color, las latinas y todas las inmigrantes al mismo tiempo que eleva sin disculpas nuestras demandas y experiencias. Asegure su lugar antes de que sea demasiado tarde. La inscripción cierra el 31 de marzo.
Apoyando a nuestra comunidad musulmana
Del 3 al 4 de abril, también nos uniremos al Día del musulmán en el Capitolio. Únase a personas de fe musulmana y simpatizantes de todo el estado para luchar contra la islamofobia, discutir la legislación que afecta a nuestra comunidad musulmana y hablar con los legisladores sobre los temas. Regístrate hoy para participar.
También estamos elevando las historias de muchas mujeres musulmanas increíbles capturadas en un nuevo libro electrónico, Aprendiendo de dentro: Historias de mujeres en el nuevo mundo. Escrita en inglés y en árabe, incluye historias de valientes refugiadas e inmigrantes cuya supervivencia y liderazgo pueden ser una inspiración para muchas otras mujeres en todo el mundo. Obtenga su copia por solo $ 5 en una donación a la Coalición de Inmigrantes de Florida.
Haciendo la vida mejor
Hay algunos proyectos de ley bajo consideración en esta sesión que podrían mejorar la vida de todos los floridanos, como la HB 457 y la SB 1234. La Unión Latinoamericana de Florida (FLHASU) celebró una conferencia de prensa en el Capitolio de la Florida pidiendo a los legisladores de la Florida que apoyen esto Legislación, que extendería los premios estatales de ayuda financiera a los estudiantes que tengan DACA y TPS. Estos son algunos de los otros proyectos de ley que podrían mejorar la vida de todos los floridanos.
HB 457 / SB 1234: Requisitos de elegibilidad de los estudiantes para los premios estatales de ayuda financiera y las becas de asistencia de matrícula – Amplía la elegibilidad de becas y ayuda financiera para los beneficiarios de DACA y TPS (Patrocinadores: Representative Thad Altman, Senator Aaron Bean)
HB 1303/SB 1566: Ley de Confianza de la Florida – Reconstruiría la confianza y la autonomía local en nuestras comunidades, evitando que las autoridades locales se vieran obligadas a trabajar con ICE (Patrocinadores: Representante Al Jacquet, Senador Victor M. Torres)
HB 1137: No cumplimiento de las medidas de detención de inmigrantes y órdenes de inmigración no judiciales – Limita la posible cooperación con la policía local y la policía federal de inmigración (Patrocinador: Representante Cindy Polo)
SB 1538: Prevención de enfermedades causadas por el calor – Protección a los trabajadores agrícolas de las condiciones de calor extremo (Patrocinadores: Representante Carlos Guillermo Smith, Senador Victor Torres)
HB 49 / SB 332: Dignidad para las mujeres encarceladas – Proporciona a las mujeres encarceladas y detenidas acceso a productos de salud y agrega requisitos de seguridad cuando interactúan con guardias (Patrocinadores: Representante Shevrin Jones, Representante Amy Mercado, Senador Jason Pizzo)
Nan kreyòl
Semèn sa te trè motive. Anpil abitan Florida nan kat kwen peyi a te fè yon sèl pou rejwenn nou nan yon gwo mobilizasyon pou sipòte fanmi imigran yo. Nou te pataje anpil bèl istwa avèk palemante nou yo, nou te rete ap veye, nou t'ap manche nan tout Tallahassee, kreye aktivite atistik, e nou te asire nou ke yo tande vwa nou. Ne te vrèman etone wè kouraj ekstraòdine kominote imigran nou yo t'ap montre, espesyalman kouraj Jenès imigran nou yo.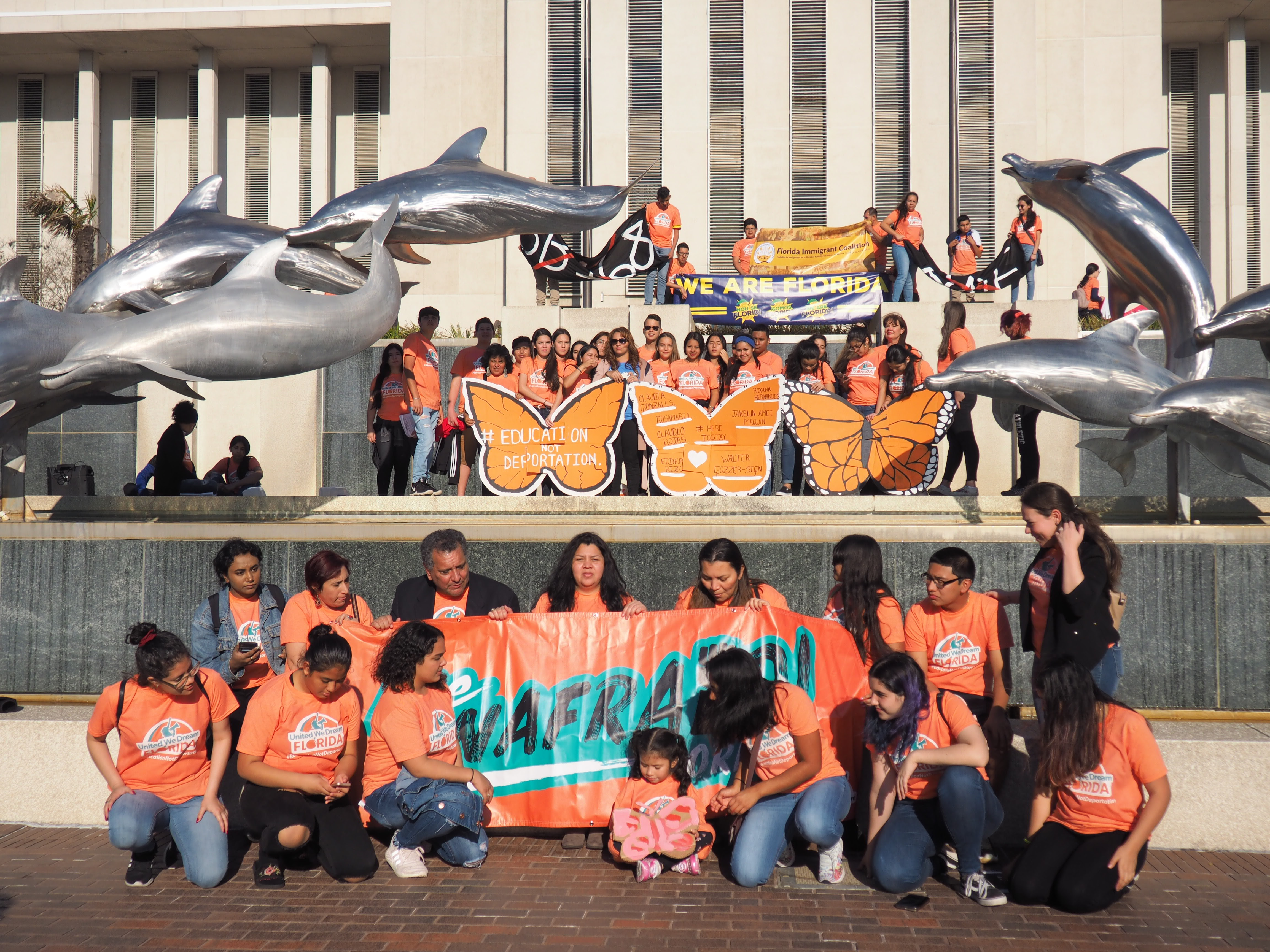 Nou tande istwa timoun ki separe ak paran yo ki ba nou lapenn, ladan yo gen yon bèl ti pitit 5 lane kote papa l fèk depòte la semèn pase a, ak lòt istwa moun k'ap goumen e k'ap fè fas ak vyolans, laperèz, kote moun pa konnen yo. Pwoblèm nou an mennen nou tout ansanm, e ansanm nou fò.
Yon gran Mèsi ak tout òganizasyon ke èd yo te sipòte nou anpil pou semèn mobilizasyon pou dwa imigran yo, san nou pa bliye site ladan yo : United We Dream (Ansanm Nou Reve), FWAF, HOPE, MFV, Trust Orlando (Verite Orlando), Florida Latina Advocacy Network (Rezo Avoka Panyòl nan Florida), Orange County Classroom Teachers Association (Asosyasyon Pwofesè Lekòl nan Vil Orange), We Count! (Nou konte), Community Tampa Bay (Kominote moun Tampa Bay), RCMA, QLatinx, We Are All America (Nou Tout Se Amerika), Unite Here (Ini la), Florida Immigrant Youth Network (Rezo Jenès Imigrant nan Florida), Young American Dreamers (Jèn Ameriken k'ap Reve), ak plis toujou. Travay sa p'at ka posib san manm nou yo, patnè nou yo, ak patizan nou yo. Gade plis imaj sou bèl mobilizasyon sa a la.
SB 168 ak HB 527 vin pi lèd toujou
Nan Florida, 1 rezidan sou 5 se yon imigran, e apeprè 1 million nan nou sa yo ap viv avek omwen yon moun san dokiman nan fanmi yo. Florida se youn nan Eta ki plis etann nan peyi a. Men Eta nou an kanpe kounya sou pwent pye l' pou mennen mouvman kont imigran yo tout Eta yo avek Lwa 168 Senate yo ak Lwa 527 Chanm nan. Lwa sa yo moun plis swiv akoz gen yon bagay sekrè yo gen ladan ki te diskite an prive ki te pale ant legislatè ak lidè biznisman yo ki te kont E-verify. HB 527 menm te gen youn nan komite sa yo ki te sispann ak anile ki panse li te ka genyen sol kay la byen rapid. Tou de (2) Lwa sa yo ta dwe kraze, e sekirite tout fanmi Florida yo dwe pase an premye.
Se pou sa Jorge Colina, Chèf Lapolis la nan Miami an di l'ap kite Lapolis la si SB 168 la ta pase e li te di li p'ap kapab domi lannwit si li te dwe "tcheke kote moun yo soti avan li ede yo." Bagay sa kontrè ak tout sa moun k'ap viv nan Florida yo ta kanpe pou yo a, e l'ap sèlman mennen nou nan yon destriksyon tout fanmi nou yo, byen lwen benefis sa yo anpil konpayi ap pwofite jwi akoz de soufrans nou.
Ede nou kanpe kont SB 168 ak HB 527. Voye yon imèl kounya e rele Legislatè w genyen nan Florida sou 210-714-2768.
Peyi Panyòl yo
Soti nan lwa kont imigran k'ap fòse enstitisyon lokal yo aplike avèk ICE yo pou entèdi swen sante repwodisksyon menm si yo ta konnen yo ansent, fanm nan Florida kontinye ap sibi menas pandan sesyon lejislativ sa yo. Vin jwenn Panyòl yo nan tout Eta a nan Tallahassee 3 ak 4 Avril pou w leve kominote nou yo ak denonse kijan Lwa kont imigran ak lwa ki kont fanm yo ap ravaje fanm nwa yo. Eta moun Panyòl yo pral honore lavi ak fòs kouraj fanm sa yo, Panyòl, ak tout imigran pandan li pa gen okenn fòs kote ni san li pa gade sou kritè demand, referans ak eksperyans. Mete plas ou a ansekirite avan li twò ta. Enskripsyon an ap fini 31 Mas.
Sipòte Kominote Mizilman nou yo
3 ak 4 Avril k'ap vini an, nou pral patisipe nan Jounen Mizilman yo nan Capitol. Vin jwenn moun ki gen kwayans mizilman yo ak sipòte yo ki soti nan kat kwen peyi a pou nou goumen kont laperèz kont relijyon mizilman an, pale sou lwa ki ka gen yon enpak negatif sou kominote mizilman an epi pale ak legislatè w la sou kesyon sa yo. Anrejistre jodya pou ou patisipe.
N'ap pale tou de istwa anpil gwo fanm mizilman ki ekstraòdinè ke yo arete nan yon nouvo Liv elektronik ki rele, Appran anndan: Istwa fanm Nouvo Mond yo. Liv sa ekri nan lang Anglè ak Arab, li gen ladan l' tou istwa fanm ki gen anpil kouraj ki te refijye ak imigre, kote sa yo fè ak jan y'ap travay bay anpil lòt fanm enspirasyon nan tout mond. Jwenn kopi pa w la pou sèlman yon donasyon $5 nan Florida Immigrant Coalition..
Fè lavi ya pi bèl
Gen lwa ki sou konsiderasyon sesyon sa ki ta ka rann lavi yan pi bèl pou tout moun Florida, tankou HB 457 ak SB 1234. òganizasyon Florida Latinx Hispanic American Union (FLHASU), te bay yon Konferans pou Laprès nan Capitol Floride la, pandan li t'ap envite Lejislatè Floride yo pou yo sonje Lwa sila a ki ta vle yo akòde èd ekonomik nan Leta pou etidyan DACA ak moun TPS yo. Men kèk nan lòt Pwojè Lwa ki ta ka amelyore lavi tout moun k'ap viv nan Florida yo.
HB 457 / SB 1234: Kondisyon Elijibilite Elèv pou Prim Èd Finansyè Leta a ak Sibvansyon Asistans pou Ekolaj – Elaji bousdetid ak kalifikasyon pou èd finansye pou benefisyè DACA ak TPS (Sipòtè: Reprezantan Carlos Guillermo Smith, Reprezantan Fentrice Driskell, Senatè Annette Taddeo)
HB 1303 / SB 1566: Florida Trust Act – Ta rekonstwi konfyans ak otonomi lokal nan kominote nou yo pandan l'ap koupe relasyon ant lapolis lokal yo ak Imigrasyon federal nan Ranfòse Ladwàn (Sponsò: Reprezantan Al Jacquet, Senatè Victor M. Torres, Jr.)
HB 1137: Non ezekisyon prizonye imigrasyon yo ak garanti ki pa legal bò kote imigrasyon an – Limit koperasyon potansyèl ak lapolis lokal yo ak ranfòsman federal pou imigrasyon (Sponsò: Reprezantan Cindy Polo)
SB 1538: Prevansyon Maladi Chalè – Pwoteje travayè agrikòl yo, travayè konstriksyon yo, ak lòt moun kont kondisyon chalè ekstrèm (Sipòtè: Reprezantan Carlos Guillermo Smith, Senatè Victor Torres)
HB 49 / SB332: Diyite pou fanm ki nan prizon – Ofri fanm nan prizon ak detni aksè a pwodwi sante ak ajoute kondisyon sekirite lalwa egzije lè y'ap kominike avèk gason ki gadyen prizon yo (Sponsò: Reprezantan Shevrin Jones, Reprezantan Amy Mercado, Senatè Jason Pizzo)